Legionella testing and risk assessment for Schools, Academies, Colleges and Universities
Control of Legionella in Education
The control of legionella in water systems is one of the health and safety issues that all Educational institutions are required to manage. Legionella testing is important to ensure the safety of your students, staff and visitors. Integrated Water Services (IWS) offer a complete Legionnaires solution for academies, schools, colleges and universities alike in order to help institutions safeguard the health of their people. Also, keeping compliant with the Health and Safety Executive regulations. We offer a complete legionella risk assessment solution for wide range of customers across the United Kingdom. Our legionella testing services include routine monitoring, maintenance and training.
What is Legionella?
Legionella is a disease that is caused by the bacterium Legionella Pneumophila, plus other related bacteria. The collective term used to cover the group of diseases caused by Legionella bacteria is Legionellosis. The bacterium that causes Legionnaires' disease is widespread in nature. It mainly lives in water, for example, ponds, but in low numbers where it does not usually cause problems. It may also be found in purpose-built water systems that can be favourable to the growth of this bacteria. Outbreaks of the illness occur from exposure to high levels of legionella where water is being maintained at an optimum temperature to encourage growth. This means that any water system that has the right environmental conditions could potentially be a source for legionella bacteria growth with schools, colleges and universities likely to have water systems in place which could be at risk.
Who is at risk from legionnaires disease?
Anybody can be at risk from legionnaires disease. Furthermore these groups of people are more at risk of  contracting the disease
those with poor health,
people over 45
smokers can be more at risk from the disease.
People with reduced immune systems are also vulnerable to the bacteria.
The disease is not contracted from person to person. It is also worth noting that not all people exposed to the bacteria can become sick.
How is Legionnaires' disease contracted
Legionella can be contracted through the air. It is contracted by inhalation of water droplets or air particles that contain the bacteria which then multiply in the lungs.The bacteria is common in places such as showers, hot tubs, taps and air conditioning.
Legionella bacteria can potentially build up through biofilms. Biofilms on surfaces will form a protective layer which will protect the bacteria from temperatures and treatments which destroy the bacteria.  Water systems i.e. cooling towers, water tanks and unclean water sources with the right conditions can allow the Legionella bacteria to grow and create these biofilms.
The Health and Safety Executive's Approved Code of Practice (ACOP L8) Legionnaires' disease, The control of legionella bacteria in water systems is designed for employers and those with responsibility for the control of premises.
Legionella testing
Legionella testing can be done by our expert legionella risk assessors who will provide you with an extensive document covering many aspects. When there is no provision for Legionella testing and control, it can be easy for legionella bacteria to grow and spread. In many cases, there will be a requirement to implement an action plan for preventing or controlling the risks identified. If you already have these measures in place, IWS can help you ensure that these controls are effective through regular inspections, checking and monitoring of the water systems associated with the premises.
It is your legal duty to keep everyone safe, so, do an audit of the risk on your site, identify assets, facilities and individuals that are most at risk. You must keep records and appoint a responsible person. If you don't feel comfortable carrying out the risk assessment or need further advice, you should always call Integrated Water Services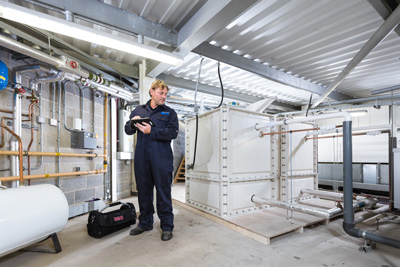 Why choose IWS to carry out your school water testing?
Our business has over 20 years' experience supporting the education sector with water hygiene services. We support institutions, schools, colleges and universities keep compliant with legislation and most importantly reducing risk to their people including staff and students. Our primary objective has been to create long-term working relationships so that our clients benefit from our experience, knowledge and expertise. IWS firmly believes that the services it provides, which are tailored to meet the specific needs of the client, are professional, cost-effective and reliable. We provide legionella risk assessments, training, water treatment, closed system testing & treatment. 
We are a leading supplier providing a complete range of specialist water treatment solutions such as Water risk assessments, legionella training and control services. IWS firmly believes that the services it provides, which are tailored to meet the specific needs of the client, are professional, cost-effective and reliable.

Our success is based on the experience and expertise of a directly employed resource. All our engineers are DBS cleared and carry identification whilst they are on site. We deliver a high standard of service in controlling the risk of Legionella and maintaining the safety of your water systems.