IWS Remote Temperature Monitoring System
Comprehensive System management and Legionella risk monitoring at your fingertips
Integrated Water Services' remote monitoring solution offers a real-time, global overview of the water system. Complimenting a traditional approach to manual monitoring, Legionella control temperatures, system schematics and scheme of control are readily available through an online portal giving full visibility and instant alerts to out of specification measurements.
Corrective actions initiated and system changes are tracked by the software giving a full audit trail to support any control scheme. Using our continuously improved hardware and cloud-based software, the simple and easy to install LoRaRF temperature sensors provide constant feed-back on system utilisation, exceeding the requirements of HSG274 pt2.
Remote Temperature Monitoring System Overview
The IWS Water Hygiene range of wireless RF transmitters combine local data collection with remote configuration and monitoring via the Realtime Online™ web interface. All transmitters link to the web via the Integrated Water Services LoRa RF IoT GSM Gateway, providing standalone and secure access, independent of the client's network infrastructure.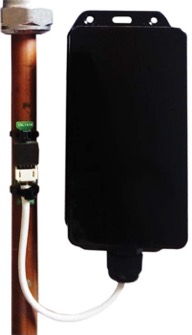 System Specification
Connection for up to three external temperature probes
Typical accuracy of ±0.5°C (UKAS reference)
Temperature range of -40°C to +125°C max
LoRaWAN version available
High and low thresholds
Built-in antenna or SMA connection available for remote external antenna connection
Ensuring water safety …
Traditional manual temperature monitoring satisfies minimum guidance, but essentially confirms only the capability of the water system to reach required temperatures, not that they are consistently achieved.
Temperature data, measured by our sensors installed around the water system of the building, is received by the GSM Gateway. The gateway transmits real time data via GPRS to our secure cloud server. Graph production and visualisation tools help expose potential risks, understand contributing factors and highlight opportunities for increased efficiency.
Our system captures the high and low temperatures relevant to critical requirements that often go undetected by manual temperature checks or intermittent readings. Alert levels are tailored to individual systems and exceptions are communicated via text or email. This provides escalations and notifications of out of specification results, in real time, allowing immediate inspection and resulting in earlier issue resolution and a safer water supply.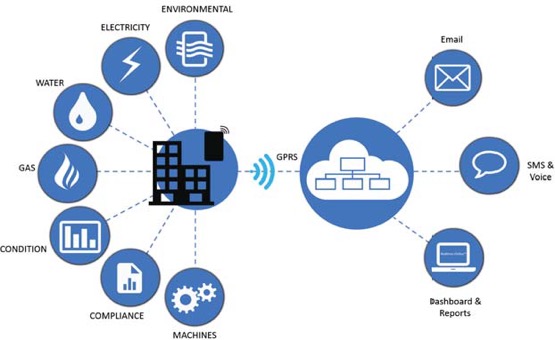 Enhanced Compliance Reporting
Using manual temperature measurement for collecting data can be very time consuming, resulting in unnecessary manpower and transport costs, waste water and increased cost in reheating of water
Features
Simple to deploy and install
Long Range wireless RF sensors
Non-intrusive monitoring
Automatic and continuous measurement
Long battery life
Expandable and simple to use
Readily accessible
Benefits
Level of monitoring vastly increased from manual visits
Restricted or difficult to access areas continuously monitored
Low maintenance costs
Exceeds requirements of HSG 274 pt2
Improved demonstration of compliance
Ongoing accuracy confirmed by validation visits.
Reassurance
The system exceeds all requirements of HSG274 Part 2 with the additional benefit of a document upload and storage facility, therefore proving a single source and easy to access resource for your Legionella Compliance.
Clients gain peace of mind over the condition of their water systems, ensuring the risk from Legionella Bacteria and Legionnaires' Disease is minimised
Installation Process
Interrogation of the site legionella risk assessment, site survey and consultation with site responsible managers will confirm the system locations to be monitored. Installation is carried by IWS engineers and readings validated against calibrated temperature probes. Portal access and alert criteria are then established and monitoring is live.
Validation of data
IWS carry out (initial) quarterly validation visits where manual readings are taken to ensure the remote data is accurate. Sensitivity gain on the probes can be altered, allowing different pipe materials and external influence to be factored out.
Ongoing Support Services
In addition to validation visits, IWS can offer several supplementary levels of support, where both dashboard and individual probe data is interrogated for potential issues that may increase risk from the system.
Schematics
Water schematic displays points monitored
Sensors displayed are live and show the most recent temperature
Clicking on any sensor will access the graph for that sensor
Reports
Weekly exceptions
Weekly compliance
Weekly exceptions escalated
Monthly compliance
Failed sensor notifications
Sectors
We provide this service for a variety of clients and markets across the United Kingdom.