Legionella Control Association
Integrated Water Services is a registered provider of Legionella Management and monitoring services through the Legionella Control Association (LCA); meaning that our management systems and processes meet the LCA code of conduct in all aspects for the following categories:-
Hot and Cold Water Monitoring and Inspection Services
Cleaning and Disinfection Services
Legionella Analytical Services
Plant and Equipment Services
The Legionella Control Association (LCA) is a voluntary organisation whose membership comprises providers of services and products concerned with the control of legionella bacteria in water systems. The main benefit to Customers is assurance that it is the primary aim of Integrated Water Services (IWS) to keep water systems safe and minimise the risk of cases of Legionnaires' disease caused by poorly maintained systems. This is achieved by independent auditing of nine critical areas that detail the commitment that customers can expect from Integrated Water Services, this is crucial when making a decision of which competent service provider to use.
Competent Service Delivery
Although membership is voluntary, the level of service delivery (both from a quality and technical perspective), is audited to rigorous standards. This level of interrogation should offer the Client a sense of confidence in the level of service they can expect and deserve from a member of the LCA.
Membership of the LCA requires IWS to establish a programme with the Client that will allow both parties to review formally, at least annually, all aspects of the agreement covering system management and the control of legionella.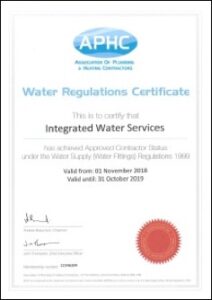 The Association of Plumbing and Heating Contractors (APHC) is a not-for-profit trade body for the plumbing and heating industry in England and Wales.  Being a member of APHC distinguishes professional businesses from the rogue traders.
Certificate No:            12346304